We made customizable profile export, redesigned profile adding form and settings, improved Fingerprint spoofing and other features in the new version of Accovod!
Keep making the program better and better. 😉
We added customizable export of profiles, with choice of data and format (txt, csv). Now you can choose what data and in what format to export. Including bulk cookie export which many users asked for.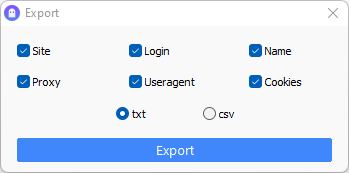 In session manager added information on when the session was last saved.
Redesign of account adding and setting forms. Now adding looks like this:
Here you can see how we've simplified entering the site address – it's now on par with social media. Let me remind you, we have some integrated sites that support additional features such as automatic authorization, notification tracking, etc., but Accovod can work with any site.
Updated the user agent lists. Fixed user agent selection from Chrome:Latest and Firefox:Latest lists.
Improved fingerprint spoofing.
Added a new type of fingerprint spoofing – with a non-unique canvas. Works the same as the "swap v2 method", except the canvas is not swapped for a unique one, but the real one is used. For some cases this might be better since a totally unique canvas doesn't exist.
We added a context menu for starting tasks in Automator. Right-clicking the menu will bring up a context menu where you can choose whether to start the task on the current account only, or on all accounts at once.
Fixed an error in posting photos to instagram.
Fixed bug with adding new sites to Favorites.
Other improvements and fixes.